Batzorig Vaanchig

APARTE 22
Live Støperiet Saturday 5.11




Batzorig Vaanchig is a professional Mongolian Morin khuur player and throat singer.

The brightest star in Mongolian throat singing. Batzorig Vaanchig is one of the world-leading khoomei musicians, and possibly the most well known throat singer in the world right now. He grew up in the Bayankhongor Province in Mongolia, and began to learn Mongolian throat singing from his mother at a young age, and eventually he picked up the traditional horse-head fiddle, the morin khuur. He studied music at the Institute of Culture in Ulaanbaatar, and set out to be a professional musician. His success since then has been unprecedented. As part of the band Khusugtun, he was runners-up on Asia's got Talent in 2015. Right around the same time, he became known all over the internet through a series of memes known as Mongolian Throat Singing, which portrayed the musical tradition as the ultimate, most enjoyable form of music. Vaanchig viewed it as a welcome opportunity to spread knowledge about Mongolian music to music lovers, and has since grown his global fan base through concerts and online presence. And the thing is, the meme was onto something – to hear Vaanchigs performances and the way he utilizes the human voice, really is not like any other form of singing. The way it combines with the morin khuur, can be both hauntingly beautiful and awe-inspiring. Instantly recognizable, and still unlike anything you've ever heard.

Strupesangens mest kjente utøver.
Batzorig Vaanchig er en av verdens fremste strupesangere, og antageligvis den mest kjente eksponenten for denne tradisjonen i verden for øyeblikket. Han vokste opp i Bayankhongor-provinsen i Mongolia, og lærte sangmetoden av moren sin fra tidlig alder. Etter hvert plukket han også opp den tradisjonelle hestehodefiolinen, morin khuur. Han studerte musikk ved kulturinstituttet i Ulan Bator og ble profesjonell musiker.
Siden da har han opplevd oppsiktsvekkende stor suksess. Som medlem i bandet Khusugtun kom han på andreplass i
Asia's got Talent
i 2015. På samme tid ble opptak av ham kjent på internett gjennom en serie med memes kjent som Mongolian Throat Singing – som portretterte denne særegne tradisjonen som den ultimate musikkstilen. Vaanchig tok det som en god mulighet til å spre kunnskap om mongolsk musikk til interesserte over hele verden, og har etter hvert bygget en fanbase over hele verden gjennom konserter og tilstedeværelse på nettet. Og selv om tonen er spøkefull, er jo memet inne på noe – å høre Vaanchigs opptredner, måten han bruker menneskestemmen på, ligner virkelig lite annet. Kombinasjonen av strupesangen og hestehodefiolinen kan både være vakker og rystende – umiddelbart gjenkjennelig, men også noe du aldri har hørt før.
Website
Facebook
Instagram
YouTube
Awards:
2008 The "BEST THROAT SINGER" honor title from the National Competition of throat singers of Mongolia, 2008 "The Best Officer of Culture" from the Mongolian Trade Union,2009 Special prize of Solo category, "Earth Breathing" from the International Competition of throat singers organized in Ulaan-Ude, Russian Federation, 2009 Honor title "BEST OFFICER OF CULTURE" of Mongolia.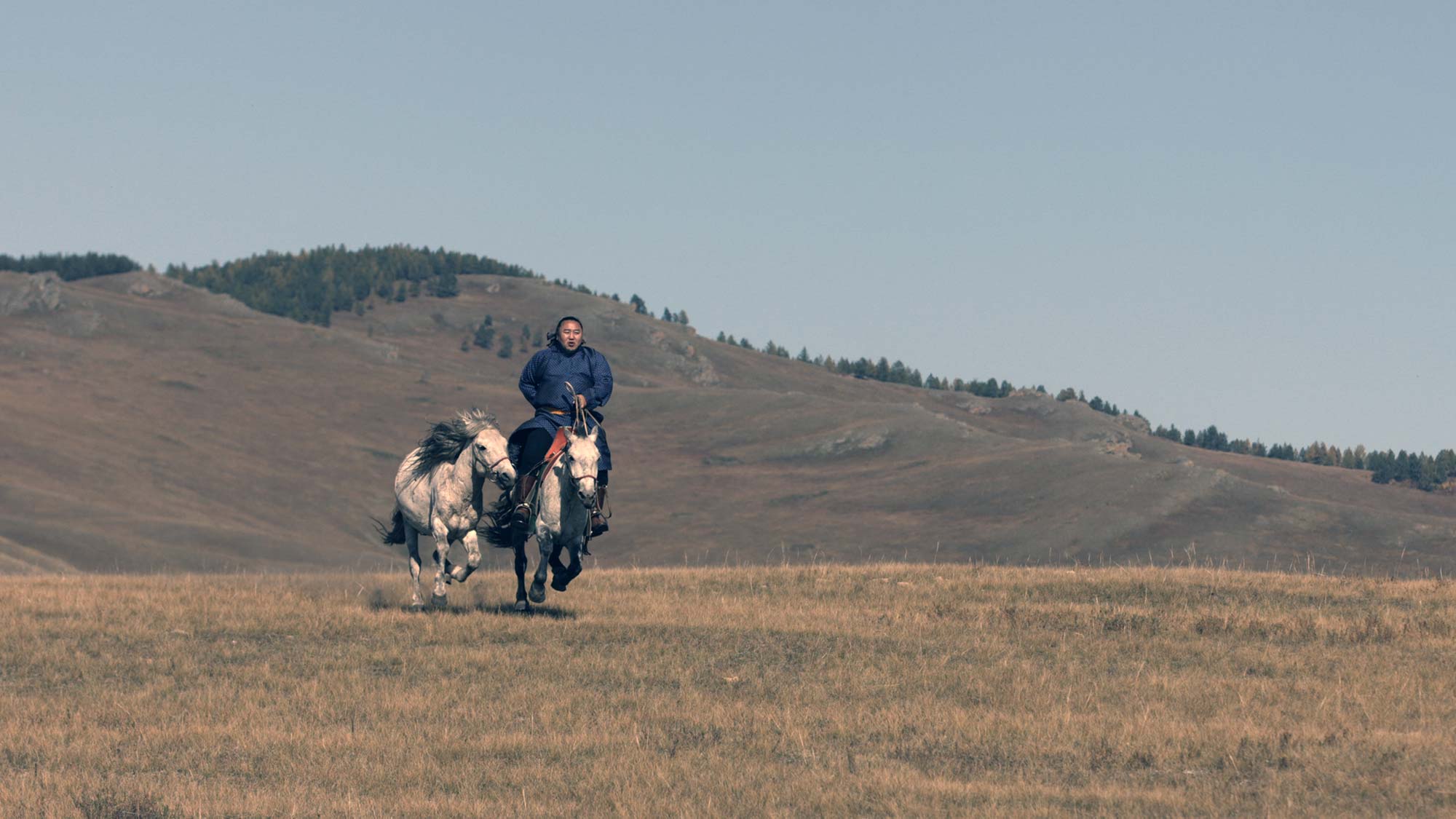 Yamabiko Prólogos
A physical theatre performance by Janne Hoem

APARTE 22
Støperiet Saturday 5.11


Spirit of valley reverberation; The wilds of Japan are full of strange phenomena, like echoes that bounce back with more delay than they should, or that come back slightly different from the original sound. When the echo comes from the mountains, it is due to something called a yamabiko. They are very small, appearing like a cross between a dog and a wild monkey. Yamabiko are known almost exclusively by their voices alone, which are skilled at mimicking any sound, including natural sounds, human language, and more recently, trains and cars. They also occasionally unleash terrible and mysterious screams deep in the forests that can carry for very long distances.

Yamabiko Prólogos is a nonverbal, physical theatre performance absent of traditional narrative. Hoem's experimental theater creation and artistic instruction is rooted in collective, improvising processes. With her collaborators from various fields, cultures, and perspectives, Hoem seeks to communicate through the symbolic imagery found in folklore, mythology, and dreams.

Poster: Alan Veiga

The cast is a mixture of performers from 10 to 76 years of age, both from Norway and Japan. Some of the performers are highly professional and some never entered the stage before.

With Nelly Øster, Freddy Voldstad, Jens Stenstadvold, Hallvard Håstein, Ophelia Leithe-Rief, butoh-duo Mutsumi & Neiro (JP), Mitsuyo Uesugi (JP), Kjell «Elvis» Bjørnestad.

Directed by Janne Hoem




The Kingdoms of Elgaland-Vargaland [KREV]

APARTE 22
The inauguration of the consulate at Haugar Art Museum in Tønsberg 5.11




Elgaland-Vargaland
is an art project by Swedish artists Carl Michael von Hausswolff and Leif Elggren. It incorporates all boundaries between other nations as well as Digital Territory and other states of existence. The Kingdoms of Elgaland-Vargaland [KREV] were proclaimed on May 27th 1992. Various sections and aspects of life were annexed and proclaimed as the territory of the infant state. Elgaland-Vargaland consist of all Border Territories: Geographical, Mental & Digital. Every time you travel somewhere, and every time you enter another form, such as the dream state, you visit Elgaland-Vargaland. In its 30-year of existence, the project has – through its humorous approach to various government functions – opened a number of relevant questions: what does it mean to be a member of a nation, who has the right to occupy private parts of one's life and mind, how far does political power reach, etc.
Hausswolff and Elggren print their own currency, official stamps and issue passports to new citizens, as well as establish Elgaland-Vargaland embassies and consulates all around the world, which they will do at
Haugar Art Museum
in Tønsberg during APARTE festival 2022.
The Consulate will be open on 5 November at one to four o'clock in the afternoon.
Program to be announced later.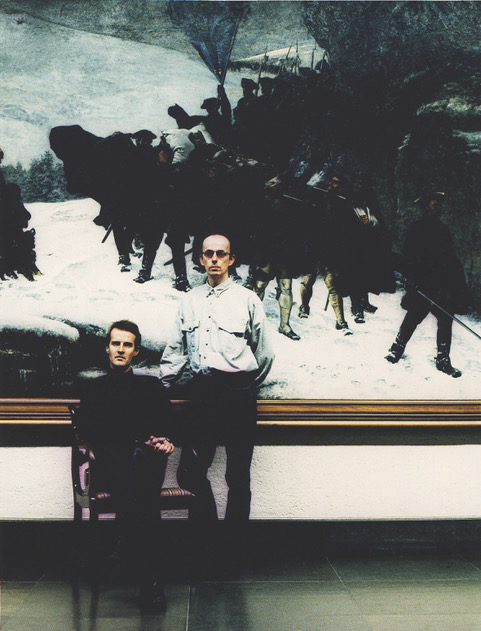 Leif Elggren
was born in 1950 in Linköping, Sweden. Active since the late 1970s, Elggren has become one of the most constantly surprising conceptual artists to work in the combined worlds of audio and visual. A writer, visual artist, stage performer and composer, he has many albums to his credits, solo and with the Sons of God, on labels such as Ash International, Touch, Radium and his own Firework Edition. His music, often conceived as the soundtrack to a visual installation or experimental stage performance, usually presents carefully selected sound sources over a long stretch of time and can range from mesmerizingly quiet electronics to harsh noise. His wide-ranging and prolific body of art often involves dreams and subtle absurdities, social hierarchies turned upside-down, hidden actions and events taking on the quality of icons.
Together with Carl Michael von Hausswolff, Elggren represented Sweden in the Nordic Pavilion at the Venice Biennale in 2001 (with Tommi Grönlund and Petteri Nisunen from Finland and Anders Tomren from Norway).
Leif Elgren website

Carl Michael von Hausswolff
was born in 1956 in Linköping, Sweden. Since the end of the 70s, Hausswolff has worked as a composer using recording technology as his main instrument and as a visual artist using light projections, film/video and still photography as well as other media. He has exhibited at dOCUMENTA (Kassel), the biennials in Venice, Moscow, Liverpool, Istanbul, Sarajevo etc. and in Copenhagen, Stockholm, Nicosia, Kaliningrad, Tokyo, London, New York, Philadelphia, etc. His music has been played in festivals such as Sonar (Barcelona), CTM (Berlin), L'audible (Paris), el niche Aural (Mexico City), MUTEK, (Montreal) etc. and released works on record by labels like RasterNoton (Berlin), Touch (London), Pomperipossa (Göteborg) and iDeal (Göteborg). He also performed at Aparte Festival in 2021.
He recently curated the 2nd part the sound-installation FREQ_OUT named freq_wave in co-operation with Thyssen-Bornemizsa Art Contemporary and collaborates with artist Leif Elggren, EVP re-searcher Michael Esposito, composers Hans-Joachim Roedelius, Mark Fell, Jim O'Rourke, author Leslie Winer and as Dark Morph (with Jónsi of Sigur Rós). He has also collaborated with Pan sonic, The Hafler Trio, Organum and PHAUSS.
Carl Michael von Hausswolff website
The Kingdoms of Elgaland-Vargaland [KREV] website
Facebook
Twitter
Omar Souleyman

APARTE 22
Live Støperiet Saturday 5.11




Following his critically acclaimed, Four Tet-produced studio debut Wenu Wenu, its followup Bahdeni Nami, and 2017 Mad Decent debut To Syria, With Love, Syrian wedding singer turned global dance icon Omar Souleyman announced his 4th studio album Shlon in 2019 via Mad Decent/Because Music. On Shlon (Arabic for "how," or literally "which color"), Omar Souleyman presents 6 newtechno-meets-dabke songs of romance and love to the world — singing poetry of awoman's lips as sweet as Hillah's dates on Layle; an intriguing woman he watches from afar whose kiss would be worth 10 million other kisses on Shlon; a lover ready to offer his beloved anything she wishes under the sun on Shi Tridin ("What Do You Wish For?"); a man in admiration of a woman with green eyes and blonde hair on Abou Zlilif ("Her Face is Like The Moon"); a song about love that will last forever on Mawwal, a traditional – all superimposed on complex techno arrangements by Hasan Alo, and based on the hi-speed Kurdish and Arabic dabke and baladi styles with the exception of Mawwal being presented in its traditionally slower pace. Shlon features double keyboard work from Hasan Alo, a fellow native of the Hasaka region in Northeastern Syria who has recently been active in the vibrant nightlife sceneof Dubai. Azad Salih, a young Syrian man currently living in Mardin, Turkey, accompanies on saz, with the lyrics and love poetry written on the spot during thealbum's recording session by longtime Omar collaborator Moussa Al Mardood –also currently based in Turkey.


Omar Souleyman, who has collaborated with Björk and Four Tet, began his career as a prolific wedding singer, releasing nearly 500 live albums before civil war broke out in his native Syria in 2011. In 2013 released his debut studio album
Wenu Wenu
via Ribbon/Domino, which NPR called, "…a jam so visceral, thrilling and intense as to make the mysterious matter of earthly borders seem hardly worth the time to contemplate." His 2015 sophomore album
Bahdeni Nami
garnered widespread critical praise including
The Guardian
, who proclaimed, "It's so fast that the only appropriate way to engage with it is to wriggle your limbs. Melodies are both abrasive and ebullient, chattering endlessly like raucous birdsong", and 2017's
To Syria, With Love
via Mad Decent placing Omar firmly in the canon of global electronic music. Souleyman has bolstered his growing status as a world and electronic music icon establishing an extensive international following after touring widely and performing atmajor festivals including Glastonbury, Bonnaroo, Pitchfork Paris and Roskilde. In 2013, he performed at the Nobel Peace Prize Concert in Norway. Omar Souleyman has been touring tirelessly since the release of
To Syria, With Love
, or in fact for as long as he can remember in the last 10 years. He has crossed the planet – now seeming quite small – several times over and looks forward to meeting his fans everywhere.
Facebook
Instagram
Twitter
SoundCloud
Shlon video
(Official Music Video)
Schlon full album
(Official Full Stream)
The single Layle
(Official Full Stream)
The single Shi Tridin
(Official Full Stream)